Sailor Moon Crystal
Black Moon Arc
<![if !vml]>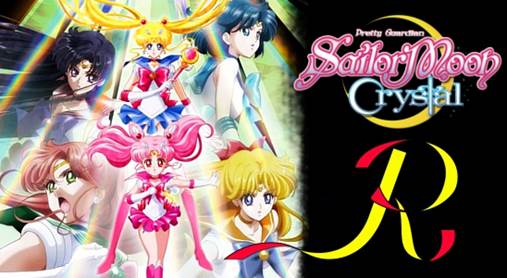 <![endif]>
TRIVIA:
This season officially started on February 7, 2015 in Japan and in North America. Like the first season, episodes air every first and third Saturday of the month, to stretch out the limited content and allow the animators extra time to change animation quirks.
It is the first "new" season not to officially have it's own separate title from the previous season. Both arcs are simply known as "Sailor Moon Crystal" while fans try to separate the second arc with the following titles: R, Black Moon Arc, Season Two.
Unlike the previous season, this Arc was announced just a few weeks ahead of the premiere, while the first season had several years worth of teasing ahead of it's debut. Because of this, some fans took to calling it a sleeper or secret season, while other fans still insist the two seasons are just one full season, with extra graphics.
The season was originally announced as a 26 episode package of Sailor Moon Crystal and not as it's own season.
While Sailor Chibi Moon appears on the poster, this is not the first season to have Chibiusa, as she actually debuted at the tail end of episode 14 in the previous Crystal season.
While many fans believe this is the only anime to feature Asanuma, this is a misnomer. Asanuma made a cameo during the Nepherenia arc of Sailor Moon Sailor StarS. However just like in the manga, the boy is given a larger role here.
This is the first anime to feature Kotono Sarashina, a classmate of Rei, who is the older sister of Kyusuke, classmate of Chibiusa. Kotono was previously featured in the manga.
Momoko/Momo-chan is given a look that ties in her manga appearance with her SuperS appearance. Here, she has dark pink hair, just like in the manga, her usual red, Chinese inspired dress, and purple eyes as she had in the SuperS anime.
Unlike previous seasons, in this anime, more people are aware of the identities of the Guardians. Asanuma not only figures out their identity, he also discovers that Luna can talk. This is all in keeping with the manga, where the concept of a secret identity was not kept nearly as strongly as it was in the first anime series. Unlike her old anime self, Luna is actually very comfortable talking about the mission in public, and unlike last season, does not seem to mind the fact that people other than Usagi can understand her.
This season only has 14 episodes, matching it's previous season. Sailor Moon Crystal arcs one and two tie for second shortest season, both beating out the Hell Tree Arc of Sailormoon R by one episode a piece.
This is the second season to use Momoiro Clover Z's "Moon Pride" as the opening theme. In fact, the opening and ending songs did not change, though the opening graphic has replaced the Dark Kingdom with the Black Moon Clan, and has replaced Silver Millennium and Queen Serenity with Chibiusa and Sailor Pluto.
While this season is the closest to the manga to date, some changes have been made. Unazuki was omitted from Act 15, making her the first Black Moon Arc character to have debuted sooner in the first anime than in the second. Also, the internet stream version of this season occasionally shows Sailor Moon using her previous locket and wand. Black lady is given stronger powers and extra on-screen time, along with extra scenes of her kissing her father, Tuxedo Mask. (Ew!)
This is the first season to kill off a Sailor Guardian, and not bring her back to life by the end of the main battle. Sailor Pluto dies, but will be resurrected for the next season.
While Sailor Chibi Moon appears on the poster, she does not actually debut her Guardian self until Act 25.
Merchandise for this arc did not actually debut in Japan until after Act 26 made air. This was to avoid spoilers, as the new merchandise features Sailor Chibi Moon, Neo Queen Serenity, Diana and Sailor Pluto.
Diana is actually voiced by celebrity idol Shoko Nakagawa, and after Queen Serenity, makes the second character in Crystal to have had a pallet swap. Originally, Diana was seen with blue-green eyes. But in subsequent episodes and on the Blu-Ray, her eyes are dark pink and sometimes red, mimicking Chibiusa. Her fur is light grey, a blend between her mother and father's fur. In SuperS, her eyes were red and her fur was light purple/lavender, while in the manga, she has Luna's reddish-brown eyes and dark grey fur. Diana did not appear in the original anime until SuperS, but here, the timing of her appearance matches the manga.