BONUS!!
So Crystal today made it official. Sailor Uranus is transgender. This is actually in every translation of the manga as well.
<![if !vml]>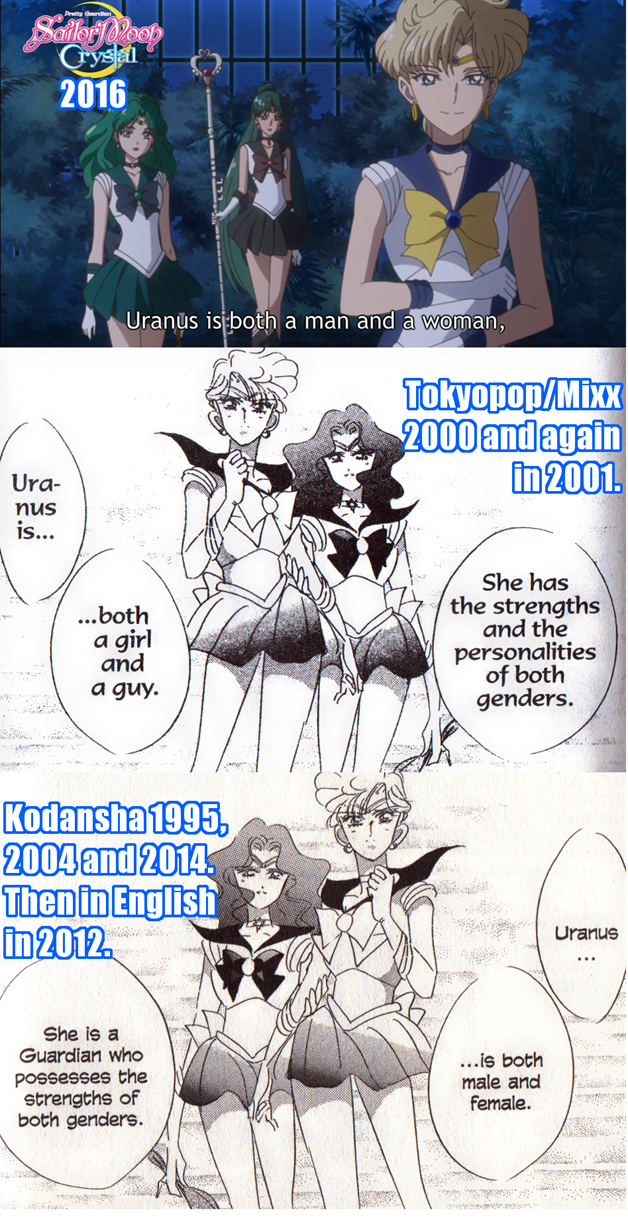 <![endif]>
And no, this isn't due to recent events, this has been a thing since the 1990's. You can actually read the above passage on page 72 in Pretty Guardian Sailor Moon #7 if you really think otherwise.
Everyone who ever doubted me? Yeah. You can line up and suck Haruka's taint. You better learn to love it, because this has always been the case with Haruka, and it's not going to change just because your panties are in a wad.
Now for you Millennials out there wondering if Transgender is the right term for her, please read the following.
By the way, in the 1990's, Haruka was known as a Hermaphrodite, which is a medical term for those who are born with both male and female genitals.
In 1999, a bunch of worthless, waste of space trolls began using medical terms such as hermaphrodite, midget and retard as ugly slurs, which is why you don't see them anymore outside of forums. It started on the internet, and then spread to TV channels, such as MTV, which routinely featured music videos and TV shows from people using these medical terms as a slur meaning "stupid" instead of their original meaning. In today's day and age, although all three are medical terms still used in hospitals worldwide, the internet and MTV troll communities have wrongfully and stupidly made these medical terms horrifying on the ears, and they are no longer acceptable, because a few, stupid trolls couldn't figure out how to come up with a better insult when name-calling. We now delete medical words because of internet trolls and the people who couldn't Google the meaning of the words by themselves.
Today, Haruka is called "transgender" because as we see frequently in the manga and both anime shows, she switches from being treated as, addressed as and dressing as a male and a female. If you've been paying attention so far, Michiru alternates between calling her a "her" and a "him" based on what Haruka chooses for herself at the start of every episode. Michiru also did this in Sailormoon S and Sailor StarS.
Gender-fluid is another term used for Haruka by newer Moonies, but this is more for someone who does not know what gender they want to be seen as, but are satisfied not ascribing one or the other term to themselves yet, or those who are questioning their sexuality and still trying to find themselves. This is also used for those who are happy to see themselves as asexual.
Haruka makes it clear how she wants to be addressed, so this term is not meant for her, contrary to popular fan fiction. At school and on the race track, she wants to be seen as a boy, at the mall or when she is at home or transformed, she prefers to be seen as a girl. She is clear on what she wants, and Michiru completely understands this. Thus, she is transgender, switching from gender to gender, and she is 100% clear on her goal and desire with each move.
In Sailormoon S, her gender was always "female" though she still spent most of her on-screen time dressed as a boy. Toei at one point did intend to address her as being both, but this was one of those things they didn't get around to. In fact, their writing staff at the time enjoyed revealing her as a girl in episode 92.
For the remainder of the manga from the Dream Arc/SuperS onward, she's been addressed as a female.
So you must be curious then. Why is there no "dick" when Haruka transforms?
Keep in mind that when she transforms, you're not going to see a "wiener" on her for the same reason you don't see one in Mamoru's transformation or in any of the Starlights' transformations.
In Japan, it's heavily frowned upon to draw male genitals, unless the character is a child or in a child's body. This is why (I'm using another Toei anime here) in Dragonball, you can see little Goku's package, but not in Dragonball Z when Goku is an adult. Disgusting? Of course! Pedophilic? Well DUH! Make any sense? Absolutely not! Gross? Definitely! But that's how it is. You can draw naked women and children and call it "art" over there, but no naked men. It's absolutely mind-boggling, but they view an adult (or teen) male's junk as "unclean" but the other nudes as "innocent" so in order for the entire team to be able to draw Haruka transforming, they can only draw the 70% of her that is a "her" and not the 30% that is a dude.
Personally, I think it should be where you NEVER see a minor nude, but then I'm not gross. I'd be fine with adult characters baring it all, but my stomach literally churns every time I see Hotaru and Chibiusa in the current opening. I really can't stress that enough.
Getting back on track here, one more thing about Haruka. Since she is transgender, but is mostly seen as a female, she is still considered to be a lesbian, especially where she kissed Usagi while still in "girl-mode" a few weeks ago.
None of the above changes her status as an important and strong character for the LBGTQ community either.
<![if !vml]>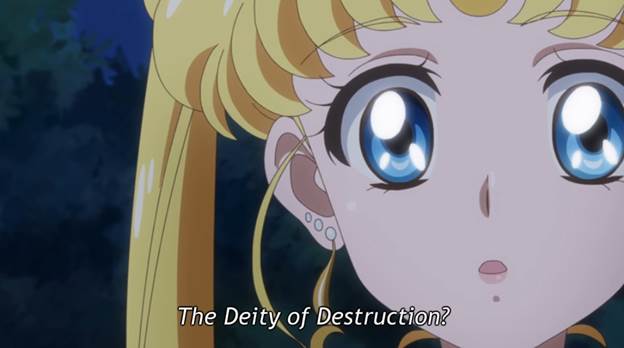 <![endif]>
in case I didn't bring this up before, yeah, there has been a change. In the manga and in Sailormoon S, both Hotaru/Mistress 9/Sailor Saturn and Usagi have been called the Messiah. But in Crystal, the Kodansha reprint manga in both the US and in Japan and in the Cloverway botch-edit of Sailormoon S, they are called Deity of Destruction. This is likely done to offset the Christian community, who threw the world's biggest hissy-fit over Sailormoon S when it came to the US in 1999. But the term "Holy Grail" is still being kept, so ha ha.
<![if !vml]>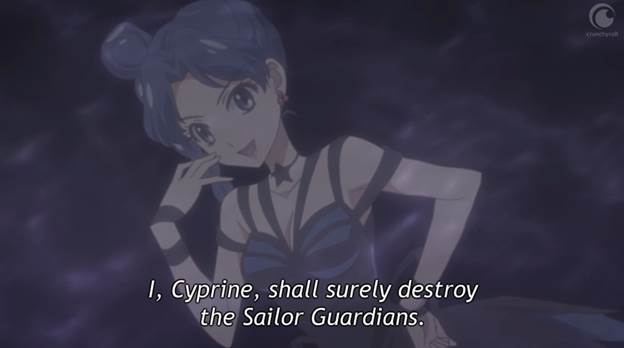 <![endif]>
Today, the blue-haired chick's name is Cyprine. I've seen it translated as "Siprin" before, but this is the most common spelling.
<![if !vml]>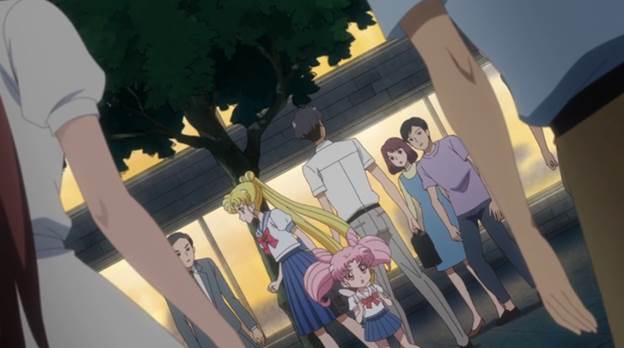 <![endif]>
Another change is that in the manga, Chibiusa actually passed out cut to pieces by the hail in the manga, but since this is only a 24 minute episode, they just let half her soul get sucked out and then let her run to her parents.
<![if !vml]>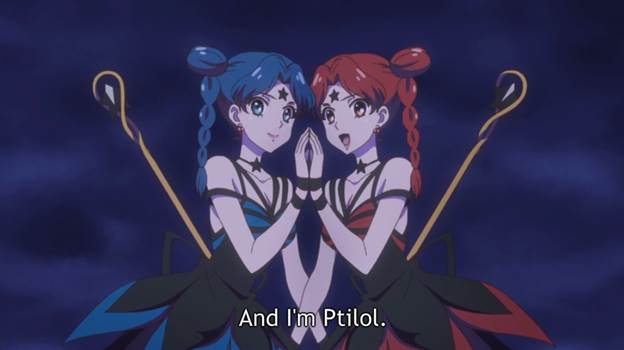 <![endif]>
This one is Ptilol. Her name has also been translated as "Petite Roll". Good luck pronouncing it.